(image credit goes to Shealea!)
This is my ELEVENTH post in the #Project14Lists series, hosted by Shealea at That Bookshelf Bitch! You can find more information here, as well as a thread of my posts for the event here.
---
Today's #Project14Lists post is…
10 Games I Want to (re)Play in 2019
If you've been around any length of time, you know that, while reading is my main jam, gaming is my second favorite hobby, and has been for about as long as I can remember. (No, really, some of my oldest memories are sitting in my dad's lap "helping" him play Zelda games on our SNES. Aaaaand I just aged myself again…)
As I've mentioned a lot lately, one of my biggest self-care goals for 2019 is getting back into gaming, so here are ten games I want to play (or replay) in 2019!
---
1. FINAL FANTASY X (replay)
My favorite game of all time. I have it on the PS2, PS3, PS4, and PC, and have played it from start to finish probably a solid… seven times? Anyways, I'm due for another replay next year.

2. FINAL FANTASY X-2
X-2, on the other hand, I've never actually beaten! I'd love to make 2019 the year I finally finish the duology (even if X-2's battle system did enrage me a little all those years ago).

3. KINGDOM HEARTS 1-2 (replay) & 3
In preparation for the KH3 release (insert "it's been 84 years" gif), I've recently started a new replay of KH1. I'm low key hoping to make the time to finish it within the next week or so to give myself plenty of time to replay KH2 before the new game drops at the end of January!
(be still, 9-year-old Destiny's beating heart)
4. STARDEW VALLEY (continuing)
I'm not starting a new game or anything, I just really want to make more time for SDV in the coming year (and maybe to finally try out the new multiplayer features).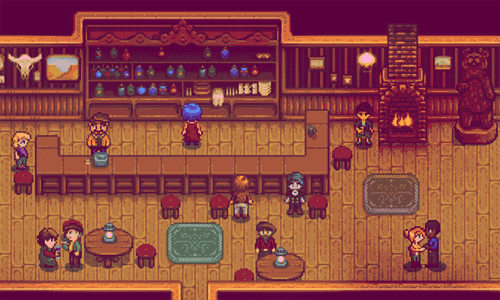 5. FORAGER
I played a trial of this that Humble Bundle offering their subscribers recently and OH. MY. GOD. I am SO ready for the full version to drop.

6. OVERWATCH
I've been following the Overwatch lore (the heroes, their shorts, etc.) since the game was in beta mode, but I didn't create my own profile until a few months ago. My spouse has been playing it all that time, and I've loved watching and learning, but I'm AWFUL at shooters. That said, I'm determined that I'm going to get almost decent at it in 2019. (If you're curious, I main as Ashe, but my fave is Zarya.)

7. LEGO: THE HOBBIT
I just got this as a freebie Humble Bundle was offering a week or two ago, and while I've never played a LEGO game, it looks so damn cute it's right at the top of my list.

8. DREAM DADDY
Don't laugh. I've been eyeing this for ages and I'm finally going to treat myself to it. (And by that, I mean that I just double-checked, and it's still on sale for half off, so ya girl literally JUST bought it.)

9. MOSS
We recently got a PSVR system, and it came with the cutest little puzzle platformer, Moss. It features a little bitty mouse on a quest, and after watching my spouse play it for all of 2 and a half minutes, I'm already obsessed with her and know I NEED to play it.

10. ASTRO BOT RESCUE MISSION
See previous game's explanation: cuteness.

---
BONUS MENTION:
I couldn't possibly make this post without mentioning one unnamed 2019 release…
ANIMAL CROSSING — NINTENDO SWITCH
It hasn't been announced yet what the working title will be or when it will be released (besides "some time in 2019"), but WOW, am I already so prepared to pre-order this the SECOND it becomes available. I've been an AC fanatic since the first game in the franchise back in the Gamecube days, and I am LONG past ready for a new mainline game. ♥ I literally screamed (and cried a little) when the announcement was made. ?

---
Are you a gamer? Are any of these favorites of yours, or ones you're looking forward to? Let me know!

---