Hello, friends! I can't believe we're about to enter another month. I usually save my TBR — or "possibility list" — for the beginning of the month, but this one's special because…
I wanted to share my PopCulture Readathon goals with you all a little bit early in case anyone who sees this hasn't had the chance to sign up for the readathon yet!
If you missed last month's announcement, I'm challenging myself to avoid making strict monthly TBRs for the rest of 2020. Instead, I'm making "possibility lists": lists of things I'm in the mood for, some basic goals I have, planned buddy reads, etc.
Basically, it helps me avoid writing a TBR post while still leaving the opportunity for you awesome, lovely people to yell at me to pick up specific things and/or for us to make some kickass buddy reads happen. ??
Now… let's get on with the possibilities, shall we?


✨ POPCULTURE READATHON: 90s edition! ✨
Round 1 of the PopCulture Readathon is going from July 1st to July 31st and is based on 90s movies! Be still, my beating 90s kid heart.
For the PopCulture Readathon, there are 4 bingo boards, and you can try to get a bingo on 1 or multiple of them, fill out 1 or multiple cards, whatever you like. I decided to go with the THRILL RIDE bingo board and I'm aiming to fill the entire card!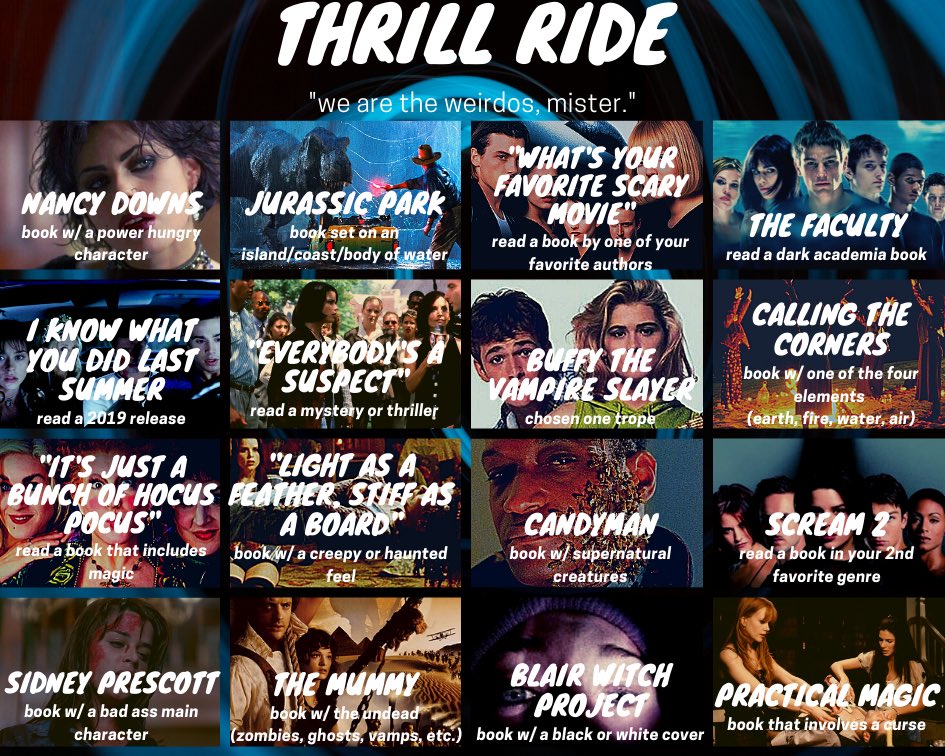 EMOJI KEY:
? buddy/group reads | ? popculture readathon | ? sci-fi july
? graphic novels/manga | ? poetry | ? audiobook
? reread | ✨ review copy | ? recent haul


Are you participating in the PopCulture Readathon? And what are you most excited to read in July?
Let me know in the comments!
— destiny ♥