Time for another ARC update! For my 2020 #ARCApocalypse info and TBR, check here!
Scroll to the bottom for a big announcement about my State of the ARC posts… 😬

My current State of the ARC…


February's State of the ARC Progress…
Completed:
Since my last State of the ARC post, I have completed

3

review copies! 
Jane Anonymous ⭐⭐⭐⭐
Prosper's Demon 🌟🌟🌟🌟🌟
Cracked Up to Be ⭐⭐⭐⭐💫
I also DNFed, set aside, and/or removed

1

review copy:
DNF (permanently):
Might pick up again later:
DEFINITELY picking up again later:

In Progress:
Right now, I have 

2

review copies in progress:
Seven Deadly Shadows
Bent Heavens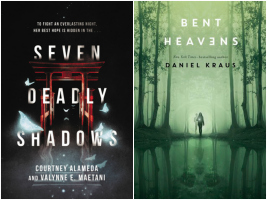 Acquired/ARC Ban Update:
I hauled WAY too many ARCs this month. :/ A few were unsolicited (those will be marked with a gift 🎁 emoji), but still.
I acquired

20 new review copies

(8 physical 📕, 7 digital 📱, 3 audio 🎧, and 2 both audio/physical) and I've knocked off

1

of this month's new arrivals!
Prosper's Demon 📕
Final Cuts: New Tales of Hollywood Horror and Other Spectacles 📕🎁
The Extraordinaries 📕🎁
House of Shadows 📱
Upright Women Wanted 🎧
You Are Not Alone 🎧
A Good Girl's Guide to Murder 🎧
Stamped: Racism, Antiracism, and You 📕🎧
The Gravity of Us 📕🎧
Take a Hint, Dani Brown 📱
Aster and the Accidental Magic 📕🎁
A Witch in Time 📕🎁
The Age of Witches 📕🎁
Clap When You Land 📱
The Fourth Whore 📕
Not Your Idol, Vol. 1 📱
Fury Unleashed 📱
Girl, Unframed 📱
I'll Be the One 📱
The Return 📕


Catching Up/BIG ANNOUNCEMENT:
You read that title right… I'm sad to say this is my final State of the ARC post, but it needs to be done. As I mentioned in a discussion post a few days ago, I've bveen really struggling lately with losing my love of reading, blogging, booktubing, the whole shebang — and I really need to refocus my priorities and stop obsessing over my overdue review copies so much. Because of that, I've been looking for ways to stop focusing so much time on it and to stop staring at these numbers so much, and I realized while typing out this post today that this meme is one of the things that gives me a lot of anxiety and guilt. That isn't the meme's fault, of course! There's nothing wrong with State of the ARC and I'm going to miss doing these posts, in a sense, but on the other hand, I know I'll be able to stop dwelling on my ARC progress such an unhealthy amount if I'm not counting up my ARCs every month. Maybe I'll start doing these posts again in the future, when I have my feelings about my review copies in a better place, but for now, I sadly say adieu to State of the ARC. 😟

— destiny ♥